Daneil
 is a queer multi-disciplinary artist. He began exploring yoga, creative movement and voice work while training as an actor in Lo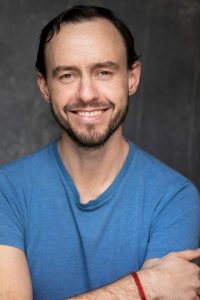 ndon. With
Teatr ZAR
(of the
Grotowski Institute
, Poland), he toured to Madrid, Tbilisi, Paris, Istanbul, Edinburgh and Warsaw. He became founder and lead performer of SoundBoxed (UK) who created and toured unique immersive theatre for three years. In 2016, he began a solo career. He creates transformational artworks that explore sensuality, sexuality and spirituality through performances, photography, film and participatory workshops. He has performed his work in London's queer night clubs, art venues and studio theatres. He also taught yoga and creative movement practice at four London drama schools (including
Identity
and
Arts Ed
– British pioneers of decolonising actor training) and led projects for adults and young people at the city's lead arts hubs — Oval House (now
Brixton House
) and
Roundhouse
.
He moved to in Aotearoa, New Zealand from London in August 2020. He teaches yoga, pursues performance practice and soon he will begin a period of study on the Creative Arts Therapy course at Whitecliffe, Auckland.
 For the Embodied Monologues Research Series 2021-22: Re-Connect he has generously shared his video Swarming and poem A Call to Action, both to be featured on Earth Day 2022.
A Call To Action
This is my gospel lamentation,
my new expression of old teachings.
Mother
It is a call to revolution, a call to embody deep ecology.
Mother
This planet is one body, this planet is Mother.
Mother
You were born from Mother, you will return to Mother.
Mother Mother Mother
Amma Amma Amma
Respect for her for she held you in her womb.
Rebirth, blind re development, wheres the space in it?
There's a big black hole I can access, look into her eyes and drink her and then She will take you to the temple steps.
There you will taste being awake,
For you have slept for too long in your ignorance and abused your powers.
O man. Blind are you who wonders aimlessly making purchases in badly lit shops.
Drink me, man beast! Like a pint on a hot summers day, in sunny British beer garden,
Laughing and cackling the pain away, suffocating in boredom.
My rainbow juice is charged with a fruitful nectar, Divine nectar. Swallow it, guzzle it.
Man you were lied to, your minds corrupted.
Drink me, I said drink me so that I can swim in your body, I'm the breeze in your blood come touch me.
Enter me, naughty, look deep into my eyes as I squeeze my thighs around your torso like a serpent.
Power of discernment, serpent.
Where's the space in it?
Jesus said " when you strip without being ashamed and you take your clothes and put them under your feet like little childrenand trample them, then you will see the child of the living one and you will not be afraid"
O Jesus, help us. Help us. Help us. Help Me. I am turned on. I see eroticism in it all, in your name and in my body.
I connect to you through my deep truth. My deepest truth.
O Mother, I honour you in all your names and forms. Use my body as a vehicle to facilitate change and make way for myFeminine Fury.
O Mother, you who are dressed in many Names, colours and forms
I surrender to your will, I prostrate at your gate and make offerings unto thee.
Wake me up, where my heart pounds as I feel your electricity pulse through me, as I witness sacrifice, as I make sacrifice inyour name.
Wake us up as we deliver acts of revolutionary transformations.
Merge with my symbol of Christ and set my queer heart on eternal fire,
aid us in moving from words into continual actions.
Dissolve what is useless, O most powerful Devi.
Make pathways (rivers and earth) possible for mass movements that bring together those who don't normally mix. I makefire in your name and wait for my future body to lead the way with your grace.
Destroy what is useless in men.
I rest in this massive black hole with one pointed illumination
I open to a forcefield of eternal Love and ferocious beauty,
Divine love which comes from your all encompassing power.
Endless Salutations unto thee,
Be with me and be with us as we, without fear – Enter Creatrix.